DuluxGroup continually supports its people to grow and develop. This is what Laura Tierney, a Dulux Trade Stores Support Officer, has experienced since she joined DuluxGroup's graduate program last year. "The opportunities with DuluxGroup are endless and the company has a really positive culture," says Laura. "I am finding the graduate program to be an excellent opportunity to collaborate with peers, meet with business leaders, and develop my leadership skills."
Laura has found the graduate projects and workshops she's been involved with stimulating. She's learnt about various facets of business from design thinking to finance and collaborated with peers in different business units. "I would definitely recommend the graduate program," says Laura.  "I couldn't be happier with where I am now."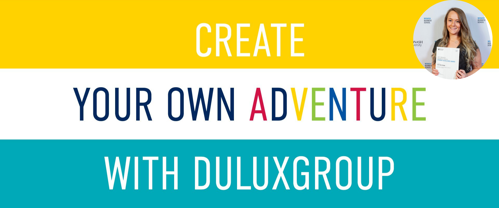 Laura Tierney graduated from Monash University in 2019, with a Bachelor of Business Administration, majoring in Management, Marketing and Communications. She is employed as a Dulux Trade Stores Support Officer, based out of the Clayton office. Her job involves supporting the operations of Dulux trade stores across Victoria, South Australia and Tasmania.
As part of the three-year Dulux Trade graduate program, Laura has the opportunity to rotate through three different job roles. She is currently working in a head office role. The other two roles include a Dulux trade stores position and a sales role. "DuluxGroup is such a big company," says Laura, "understanding the company's different business operations is important to understanding DuluxGroup as a whole."
Laura loves being able to support and collaborate with the stores team, while also challenging business processes to enhance trade operations. She says DuluxGroup fosters a supportive team culture. The trade team have, on multiple occasions, stepped outside of their day-to-day jobs to assist in extra business activities such as stocktakes and the opening of new stores.