ABBY LUTHER
Consumer Experience Manager – Yates
Be more at ease.
When Abby found out that her paid parental leave entitlement was being extended, she was elated and very excited.
Abby said that this change in policy means "there is a financial benefit" for her and other parents at DuluxGroup who take paid parental leave. It means that she can "take less leave without pay and therefore be more at ease with being able to spend more time with [her] new child"
Abby is most looking forward to "bonding with her son and having the time to focus on [just] that".
Because the rest of the world can wait.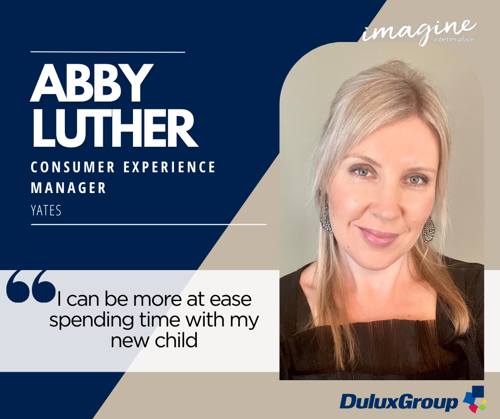 LILIAN SUN
Senior Digital Manager – Selleys
A great employer.
Lilian was very excited to find out one week into her parental leave with her second child, that she is receiving more paid parental leave than she was expecting. 
Lilian shared how 'financially, this additional amount helps, especially considering the financial pressures [the world is facing at the moment].'
Lilian spent most of her last parental leave in lockdown, so she is looking forward to spending time doing all the things she missed out on this time around.
Because the rest of the world can wait.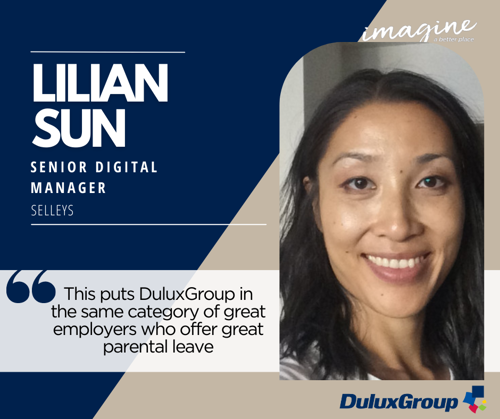 ASHLEE ALAN
Customer & Despatch Coordinator – Acratex
The best parting gift.
Ashlee found out her entitlement to parental leave was being extended by 8 weeks on the day before she commenced her parental leave.
The news that Ashlee was now eligible for 20 weeks leave, instead of 12, was a welcome surprise and the best parting gift. The gift of more time with her baby boy. When delivering the news, Ashlee advised that she had planned to return to work after her 12 weeks paid parental leave was exhausted, so it felt like a weight of stress was lifted off her shoulders because this extension now means that she will be able to spend more time at home bonding as a family together with her partner and son.
Ashlee shared how she was "excited to be at home for longer to watch [her son] grow and experience him hitting his important milestones". She is "extremely grateful to the entire DuluxGroup team, with special mention to the Quikcote and Acratex team for the ongoing support [she] has received in starting her little family," adding that with this change to our policy, we are "giving [her] family something that is irreplaceable and irreversible and that is time together. To say that [her and her partner] appreciate this is an understatement".
Because the rest of the world can wait.


LESLIE MEIKLEJOHN
Quality Assurance Manager – Yates
Leslie was pleased to hear about the increase to 20 weeks of parental leave, explaining how great it was to see DuluxGroup leading in this space and supporting their employees to spend more time with their children. For Leslie, this showed family is important to DuluxGroup and employees are valued (coming from a previous employer who offered 4 weeks' pay)
For Leslie and her family, this change to the AU Parental Leave Policy means "less financial pressure and therefore she able to relax and spend time building memories, bonding and growing as a family." 

Because the rest of the world can wait.