The DuluxGroup graduate program helped to advance the career of newly appointed NSW State Sales Manager for Dulux Retail, Trevor Spiteri. "DuluxGroup's graduate program provides excellent networking opportunities, an insight into the bigger business picture and exposure to business decisions," says Trevor, who completed the program last year. He says the program enabled him to engage with people working in different business units, from chemists to accountants and marketers and draw on their knowledge. Trevor enhanced his core sales and people skills through learning about finance fundamentals, project management, and strategy, amongst others.
Trevor says the graduate program provides one with the ability, outside of your day-to-day role, to understand at a macro level what DuluxGroup is all about. His graduate cohort was given access to the head executive team during the course of the program, giving the graduates touch points with people they wouldn't ordinarily encounter.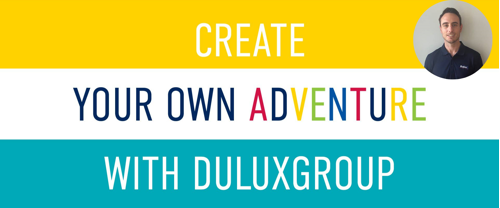 After completing the DuluxGroup graduate program, Trevor Spiteri advanced from a Field Sales Manager position with Dulux Retail to that of NSW State Sales Manager. He now heads up a retail sales team of 16 people. He meets (remotely) with his team first thing every morning. He says their morning chats not only get his team going but energise him too. They support each other, both professionally and personally.
Trevor graduated from the University of Western Sydney with a Bachelor of Arts, majoring in Education, with a key program in Psychology. He initially intended to pursue a career as a school counsellor but was lured into the field of sales while working part time at Bunnings. He worked in sales roles for a couple of companies before joining Selleys. A brief stint at another company followed, before he joined Dulux. It was during the course of a discussion with Dulux' management on how he could continue to develop his career that DuluxGroup's graduate program was proposed.  He says former participants spoke highly of the program so he signed up.  Now he is an ambassador for the program himself.
Asked about his career progression, Trevor says he believes in taking every opportunity on merit. He says he enjoys motivating and managing people, and would like to see his career position advance to a national sales manager and ultimately a general manager role.